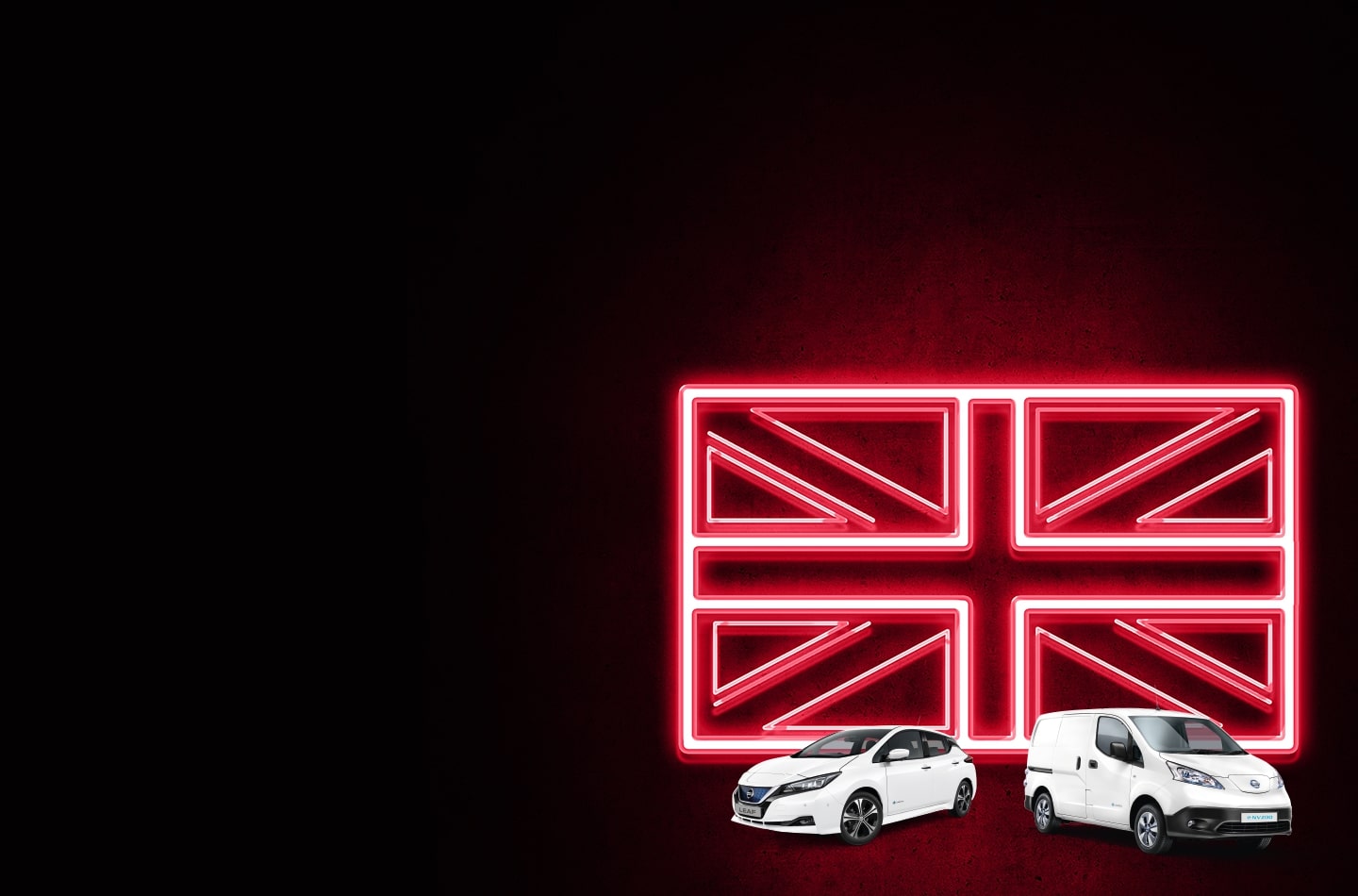 Case study
Electrifying
Britain
THE ELECTRIC VEHICLE REVOLUTION
Showing EV leadership through an integrated B2B marketing campaign
Shortlist Green Manufacturer of the Year. Fleet News Awards
23% open rate, 7% unique clicks
10.5% instant MQLs
25% of engaged audience booked EV meetings/demos within 3 months.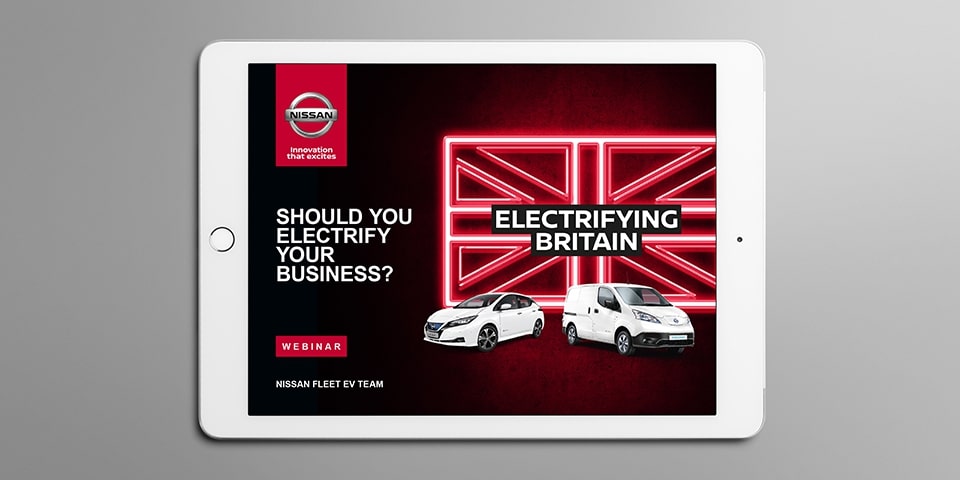 Nissan has been leading the electric vehicle revolution for almost a decade. The Nissan LEAF became the first electric car in history to surpass 400,000 global sales in March 2019. In addition, over 20k Nissan LEAFs were sold in the UK between 2011-18.
After developing a fleet market positioning for Nissan Corporate Sales GB ('Nissan Fleet. We mean business.') and supporting them to achieve a Fleet News 'Green Manufacturer of the Year' award shortlist and Highly Commended for the New Nissan LEAF, we were asked to develop an 'EV leadership' campaign.
Cue 'Electrifying Britain. Your EV challenges.' A business to business marketing campaign designed to address general concerns around electrification sustainability, implementation and cost savings.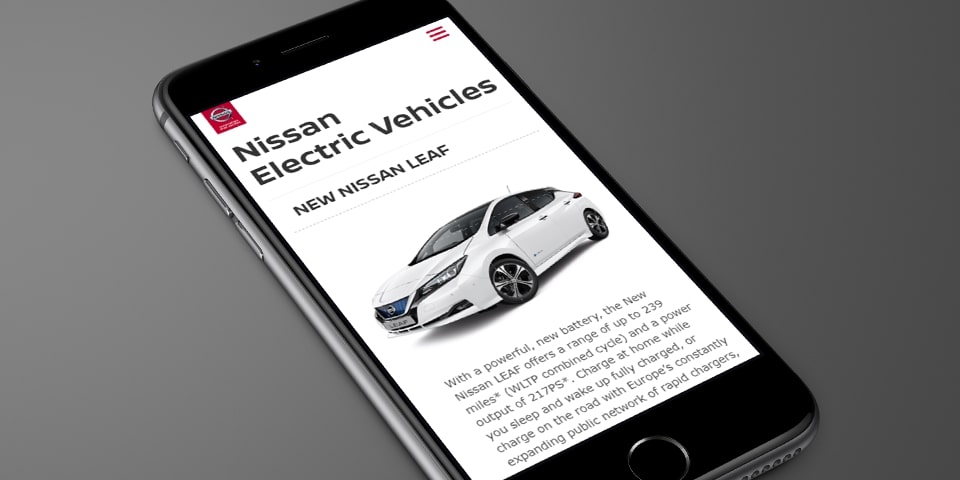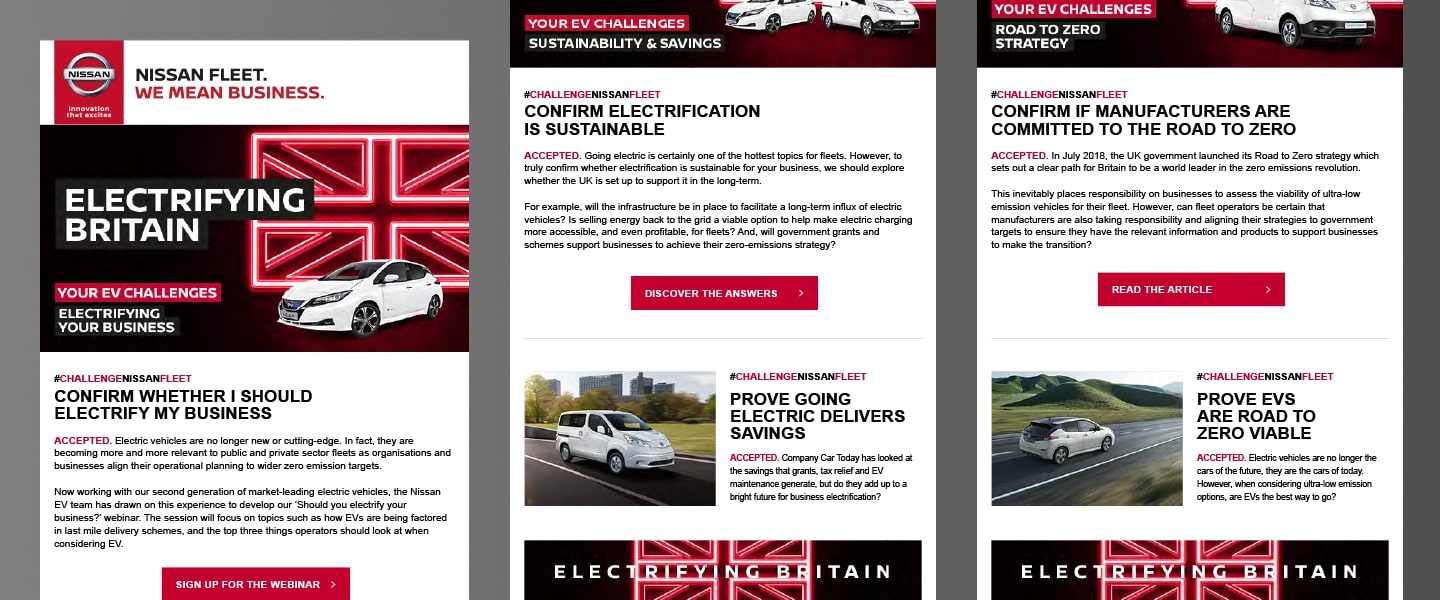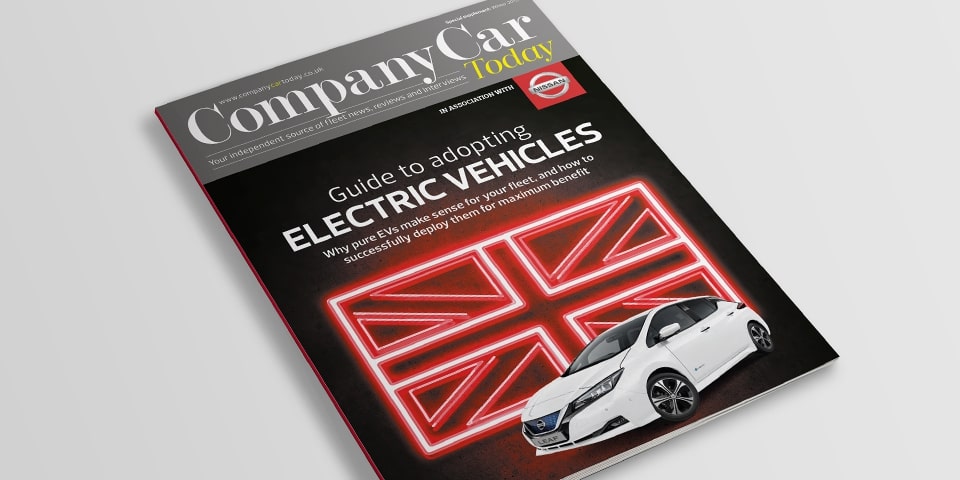 The premise of 'Electrifying Britain' has been to reach our decision maker audience with thought leadership through a series of channels, from a guide to adopting electric vehicles in conjunction with Company Car magazine, through to a market overview online article and 'Should you electrify your business?' webinar.
This is being delivered through a three-wave 'always on' marketing automation campaign, which started in early 2019, with Nissan GB's 'leadership expertise' drawing on the heritage that helped to achieve their Green Manufacturer accolade.
RESULTS
Within the first three months
15%, 16% and 23% open rates on three waves of emails, with 7% unique clicks on the latter
44 MQLs – scoring 75 points from content consumed on this EV campaign alone (opening an email is 1 point)
26 recipients scoring 55-74 – marginally missing MQL from content consumed on this campaign alone
292 recipients scoring 1-50 MQL points
25% of this engaged audience have now either booked a meeting with Nissan or requested an EV demo.

Nissan is one of the largest companies in the automotive industry. The company was founded in December 1933 which was cited as Jidosha-Seizo Co., Ltd. In June 1934, it was renamed as Nissan Motor Company after merging with another Japanese manufacturer.